Course details
Buri Shabu-no-Nabe course 5000 yen 2.5 H with all you can drink & 1 person for 1 person free of charge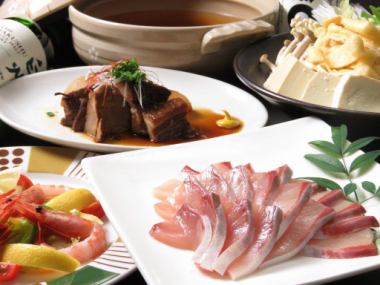 All-you-can-drink available

All you can drink is 2 hours.
Available days for reservation

Monday - Sunday - Public holidays - Holidays
Course menu
November only
1. Berry Shabababot + Udon or Miscellaneous Cooking (Please select)
2. Oda rolled egg of mentaiko
3. Sashimi Syari (3 varieties)
4. Ginger miso cream of chicken thigh and seasonal vegetables
5. Four piglet skewers
6. Prawn lotus root and Octopus mushrooms
7. Dessert
8. Attached soup stock
* The menu may be changed by purchase.
If you have any request please tell us.
All-you-can-drink menu
· Beer / Sake
· Barley <barrel>, The Malts (medium bottle) / sake, cold wine
· Shochu / Highball
· Mohsuki (Class A), Fluffy Miramori [Lychee] [Acerola], Wanko (wheat), Nanko (Potato) Angle High Bowl, Angle Hicola, Angle High Yuzu, Angle High Plum, Jim Beam High Ball Jim Beam Cola, Jim Beam ginger
·Plum wine
· Minami Takashi plum, Yuzu plum wine
·sour
· Loafy white sour, Loamy cider sour, Loam, Grapefruit, Plain, Clearly tomato, Salted plum, Minami high plum wine, Giant peas, White peach liquor, Yuzu sake, Sikhua sake sake, Acerola rosehip sake, Ripe apricot sake
· Cocktail 1
· Mojito, Jim Buck, Vodka Soda, Orange Blossom, Moscow, Screwdriver, Bulldog, Fuzzy Noble
· Cocktail 2
· Cassis (Soda · Orange · Grapefruit · Beer) Peach (Soda · Grapefruit · Doll · Oolong), Shandigafu
· Non-Allowed Drink
· All Free, All Free Collagen, Shirley Temple, Virgin Breeze, Rothlabios, Pink Lemonade
·Soft drink
· Oolong tea, cola, gingeraele, calpisoda, calpis, orange juice, grapefruit juice
· Glass wine
·Red and white
2018/11/08 update